Serving NYC since 1989!






WHAT IS AUTO-FREE NY?
A movement aimed at exploring and achieving the upper limit of "devehicularization" of our nation's largest city. Get cars out of our parks. Curb the reckless motorists who dominate our streets. Cut noise, smog and traffic costs. Increase pedestrian space and safety. Invest in new transit options and expansion -- not just baby steps -- and make bicycling better. A livable city is possible!

---
• NEXT MEETING: NOVEMBER 17
Auto-Free NY has been holding FREE monthly meetings, featuring a wide variety of guest speakers, since its founding in February, 1989. Usually held in Manhattan, they are open to the public, and no reservations are needed.
---
• The Livable City Transport Plan
is an affordable, comprehensive vision of our city, designed to be achievable in just one four-year mayoral term. Using innovations now common in more sophisticated and democratically run cities here and abroad, this plan would raise New Yorkers' quality of life through better functioning public transit, a noticeable reduction in car use and much more auto-free space in the core of NYC, the most densely populated city in the nation. As always, we look forward to your thoughtful review and comments.

---
CURRENT EVENTS:

• The City's plaNYC 2030
• Lower Manhattan
• Light Rail in NYC
• Regional Rail Working Group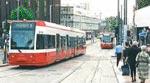 ---
FEATURES:

• Glossary
• How the NY Times Covers NYC
• AUTOMOBILE HORROR!
• 42nd St. Trolleys - Recent History
• What's so Great about Streetcars?
• Light Rail in the Lincoln Tunnel!
• New York Streetcar News Index
• East River Bridges
• Rockaway Beach Line (Qns)
• OTHER VOICES
• Life's a Beach for Paris Mayor
• Berlin: Transport Politics
• How to Join/Donate
• Visit These Links
• Recent Books
• The Five-Minute Activist
• Previous "Letters from George"
• Remembering Steve Dobrow


---
---
Auto-Free NY operates under the aegis of the Institute for Rational Urban Mobility, Inc. (IRUM), a not-for-profit organization with 501(c)(3) status.
---
Note: this website is best viewed with Text Size set to "Smaller" or "Medium."
---
If Car Names Were Honest:
Audi My-Way
Chevy Fistfight
Chrysler Criminal
Dodge Tumor
Ford Poluta XS
GMC Denial
Honda Discord
Hyundai Enslava
Lamborghini OINK
Lexus Segregator
Lincoln Alienator
Mazda MeFirstLastOnly
Mercury Dioxin
Saab Flatus
Saturn UrFaddas
Subaru Deforester
Toyota Runovia
VW Smoggia
---
Be a patriot - use mass transit!
---

HARD-TO-SEE VISION ZERO: A rare vision Zero electronic sign at the foot of the Brooklyn Bridge in Brooklyn fruitlessly exhorts motorists to slow down, May 2015. Not long after this picture was taken, the sign vanished. The paucity of Vision Zero signage citywide, and the ongoing siege of the city by reckless, speeding motorists leads some to suspect the safety measure is almost a top municipal secret. A reported slight increase in speeding tickets given to motorists citywide has made little or no difference. Traffic light re-timing and real-time digital speed displays would be more effective. Photo: Wayne Fields Letter from George


November 1, 2015




New Ferry Plans Being Floated for NYC


Dear Friends of Sustainable Transport:

Water-borne transport played a critical role in the early development of NYC and the region. The only means of travel in centuries past -- walking or using horse-drawn transport on unpaved roads -- greatly limited housing and commercial buildings to areas near the waterways. The introduction of street railways in the early 19th century dramatically changed the way the city developed. Until the Brooklyn Bridge and other major river crossings were constructed, ferries were the key connecting links fed by elaborate city and regional streetcar systems. But the rise of autos and trucks and paved roadways, and rapid transit and long-distance commuter rail lines virtually eliminated New York's waterborne transit. Today, NYCís formerly industrial/shipping waterfront is rapidly being built up with luxury high-rises and "boutique" parks. But just as in the past, these waterfront "hot spots" are far from subway stations, dampening their appeal. Now City Hall is floating a massive new plan for coordinated ferry service throughout the city. Our November meeting's guest speaker, Justine Johnson, an assistant vice president for community relations at the NYC Economic Development Corporation, will give "An Overview of NYCís Proposed Citywide Ferry System." Plan to attend our next AFNY/vision42 meeting on Tuesday, November 17, 2015, 6-8pm, at Transportation Alternatives' sleek new offices at 111 John Street, Suite 260 in Lower Manhattan, a few blocks south of the Seaport, to learn more about this effort. Also on the agenda will be a report about an important hearing at the NYC Council's Committee on Transportation, scheduled for Thursday, November 12, 2015 at 10:00am in the Council Chambers, City Hall. If you can, please plan to attend this hearing, and even better prepare a statement that you can read at the hearing -- this is a great opportunity to advance the transit initiatives we've been focusing on for years! There are four pieces of proposed legislation, two requiring the NYC DOT, not the most transit-friendly agency in the city, to:
-- (a) study the feasibility of building a light rail system in the city of New York;
-- (b) study "transit deserts" (areas remote from existing rail lines);
. . . and two calling for the MTA to:
-- (a) allow riders travelling within NYC limits to pay a fare for commuter rail equal to that of a MetroCard ride on the subways and buses, and also allow for free transfers between commuter rail and subways/buses;
-- (b) conduct a comprehensive study of unused and underutilized railroad rights of way in NYC for the purpose of evaluating the feasibility of increased passenger service along such corridors. For more details please go to:
http://legistar.council.nyc.gov/MeetingDetail.aspx?ID=442300&GUID=6E59A304-1473-41E8-9800-FB4E529F2C18&Options=info&Search= During our meeting we will also report on the latest efforts to advance vision42 - a light rail boulevard for 42nd Street, and give an update on progress in finding a new partner to help IRUM reignite its monthly Regional Rail Working Group meetings, which were washed out after Superstorm Sandy. Following the meeting, weather permitting, we can check out nearby auto-free Fulton Street at the South Street Seaport, and its ferry terminals. Although tourist-trapped, far from the subway and mismanaged for years, this auto-free space, one of the very few in Manhattan this size, does give an idea of the popular plazas that appear throughout more sophisticated cities. TA's new office is on the 2nd floor and is -no surprise - bike friendly. It is recommended, but not required, that you RSVP George at info@vision42.org.


Sincerely,
George Haikalis, Chair
---
P.S. NYC SMOG ALERT UPDATES:Despite ongoing propaganda about how clean cars are these days, NYC's air quality continues to be the worst on the East Coast -- practically every day here is an Air Quality Alert Day, meaning you shouldn't breathe when outdoors, or live within a few blocks of a city highway or through street. For updates, call the state Dept of Environmental Conservation at 1-800 535-1345.

---
WISHING TRAFFIC AWAY IS NOT EFFECTIVE
---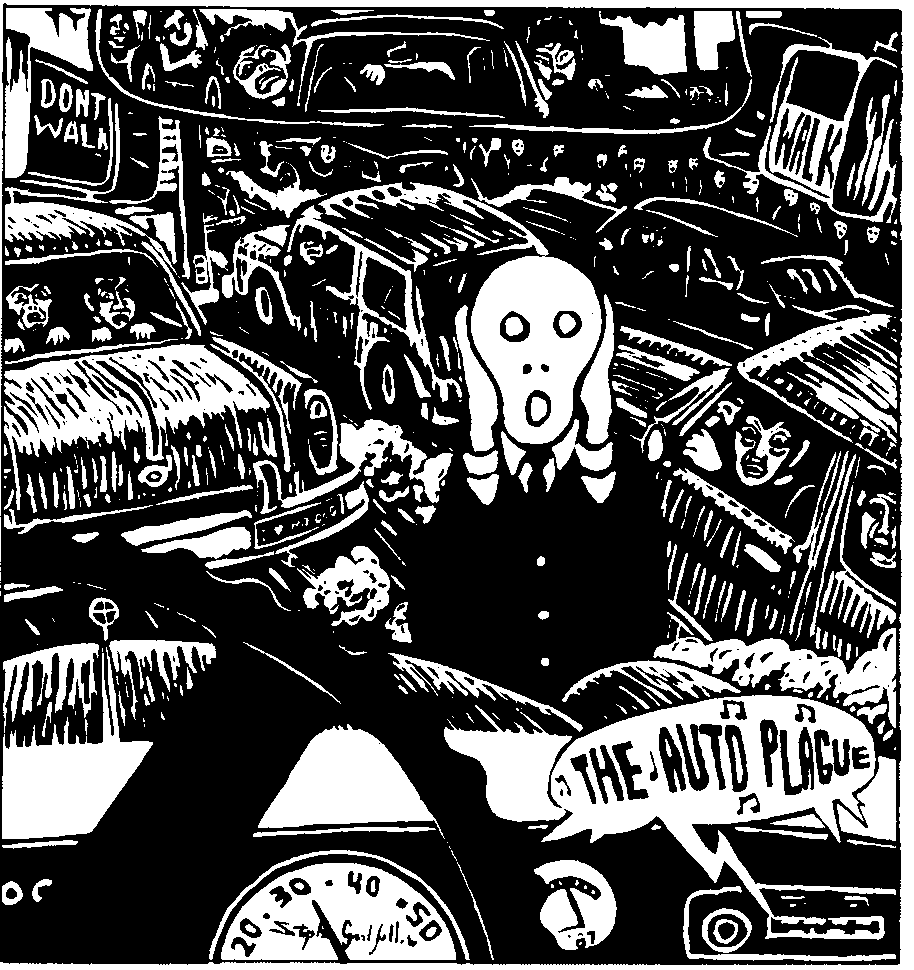 EarthDay NY 2015: Brought to you by Toyota
NY Times: Filler vs. Reporting on 'Vision Zero'
---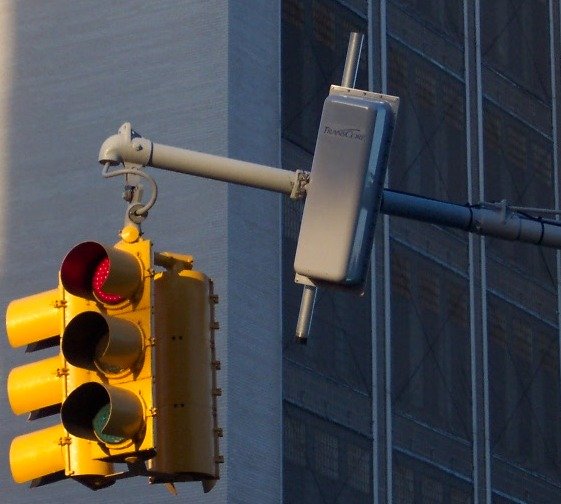 Recognize these gray boxes? EZ-Pass and Big Brother have joined op to invade our privacy, using taxpayer money. Location: Atlantic Avenue at Boerum Street, Brooklyn. Read more
---
Remarkable (& Free)
Long Island Bike & Hike Map
---
SCAPEGOATING BICYCLISTS FOR
NYC'S RECKLESS MOTOR VEHICLE CLIMATE
---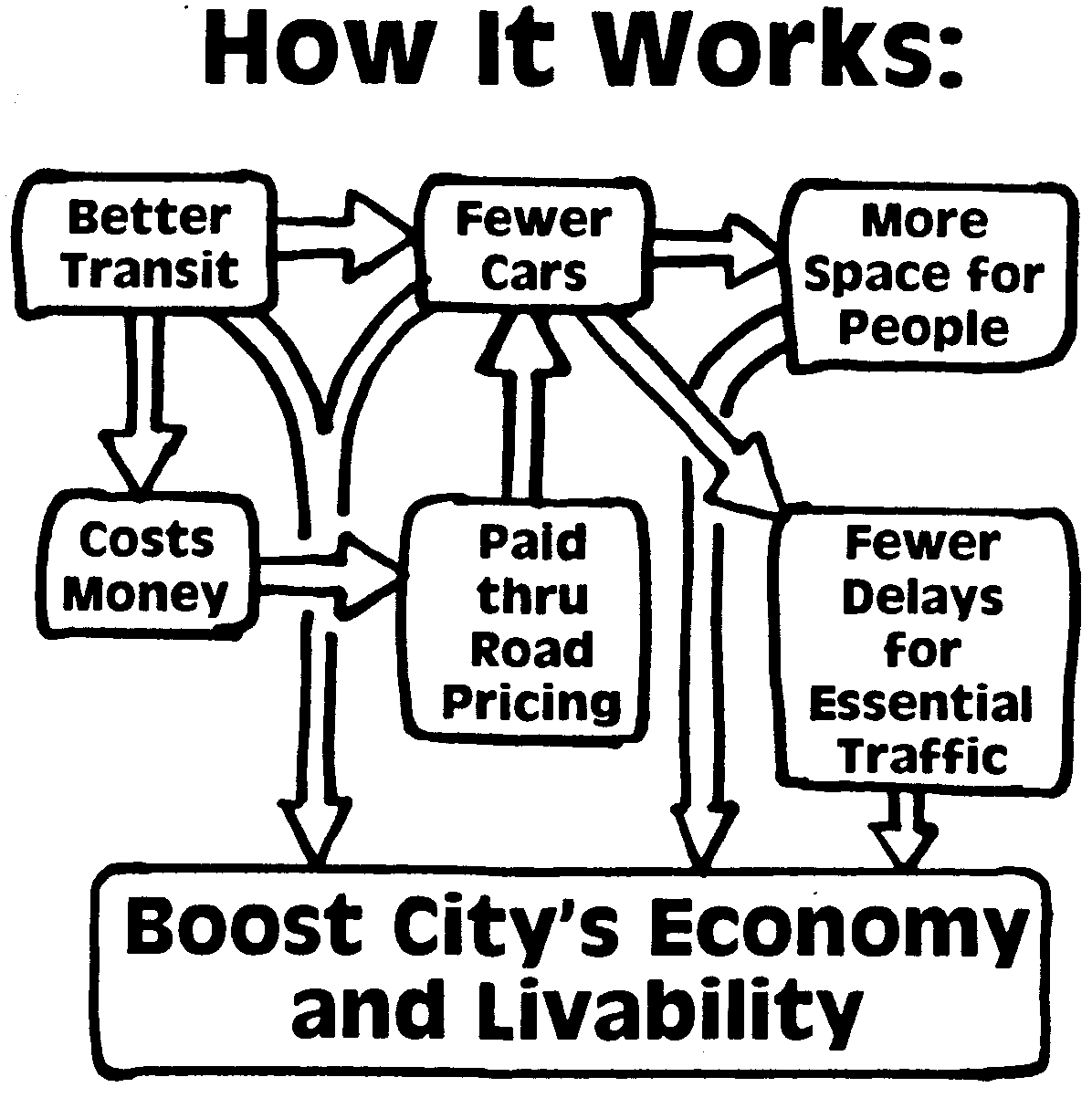 ---
Upcoming
Auto-Free NY Meetings, 2015:


Tuesday, November 17, 6-8pm
New Ferry Plans for NYC
Justine Johnson, Assistant VP for Community Relations, NYC EDC
TA's office, 111 John Street, 2nd Fl., NYC Tuesday, December 15, 6-8pm
topic to be announced
Speaker to be announced
time and location to be announced

---

Another SUV smashed by its reckless driver (Canal Street, Feb 2011): The bulk of these top-heavy, inadequately braked "bloatmobiles" makes their driver feel invulnerable, and so they drive worse, and crash more. Big business, attuned to wasteful and overdesigned products in principle, embraced SUVs as prime subjects beginning in the mid-90s, for one of the most intensive marketing and indoctrination campaigns in US car company history. But inexorably, American price supports for lower cost gasoline are going to end, while the realities of declining world oil production, and increasing political, military and climate chaos will grow more stark. Once the true costs of our national gasoline orgy start being paid by US motorists themselves rather than everyone else, these gas guzzling giants will quickly end up more worthless junk - and we may just get the quality public transportation -- and the sustainable economy -- we deserve.

---
---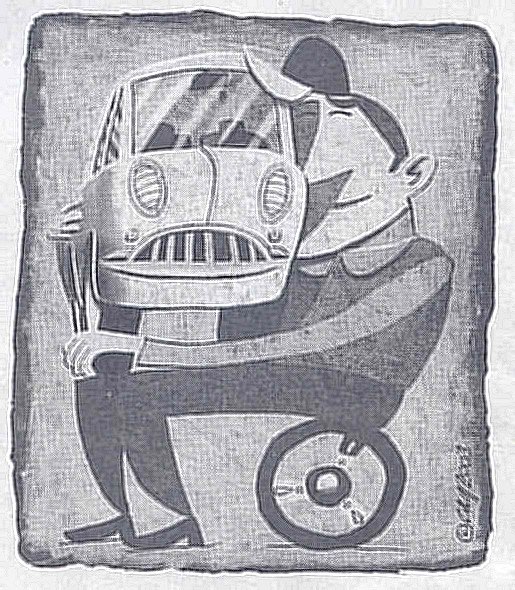 Above: This car-hugger illustration appeared in the New York Times, which has a longstanding grudge against doing serious transit journalism.

---