Return to:




Updated:
June 16, 2013.
Other Voices:
Journalistic Fraud in the City?
Reviewing the New York Times' Coverage of Urban/Transport Topics
First of All, Should I Read It or Not?

To read -- or even just skim -- the New York Times on a daily basis in order to "keep informed" is no easy commitment. Compared to NYC's two city tabloids, and the Long Island-focused Newsday, the Times tries to cover quite a bit of ground, marshaling greater quantities of actual facts and evidence, often in a serious and intelligent way, than any other daily paper in the country. [The Wall Street Journal is striving to be a competitor - more on that below.] Unfortunately, despite the real journalism it provides, much else is suspect, for a wide variety of reasons, many outside the scope of this website's analysis. The paper's signature writing style forces readers to slog through a lot of tedious restatements and overt filler to find the really important nuggets of information. Numerous thinly camouflaged promotions, info-tainment, admiration of mindless consumerism and "soft news" that clog the paper are designed to provide a benign climate for their advertisers, and at the same time offset the paper's "hard" reporting, that might disturb these advertisers. [All too often this filler just happens to mesh closely with their major advertisers' deepest profit concerns -- known as greed -- and fears.] Certainly most readers welcome in the paper occasional lifestyle, human interest and even merchandising stories, but the Times seems choked with this stuff. NYC: Knee-Deep in Political Muck - But Who's Reporting It?
Basically, no-one. The weekly Village Voice, one of the few outposts of actual muck-raking investigative reporting in the city, has been sold numerous times, and has not only physically shrunk but is ruined. Its last genuine journalists, Wayne Barrett and Tom Robbins, both either quit or were forced out in early 2011. NYC's permanent government is essentially fraudulent - in public, the City Council doing a form of kabuki in league with billionaire Mayor Bloomberg. Bloomberg is a master of slick public relations, maintains a low profile and oatmeal public image, while quietly buying off independent voices. In an overwhelmingly Democratic city, he continues to bankroll the local and national Republican Party and cut closed-door business deals, such as the two baseball stadiums, that are manifestly not in our interests. As always, New York's perennial crises -- traffic, pollution, noise, the lack of affordable housing, ongoing police brutality against minorities, construction site killings, crane crashes, dysfunctional public schools and inadequate garbage recycling -- all careen on, unchecked. The Tabloids
The tabloids -- the Daily News and the Post, both steady money losers because of their poor quality, are owned by rightwingers - Mort Zuckerman and Rupert Murdoch, respectively - and these two billionaires don't hesitate to use their properties as megaphones to shout down local politicians who might interfere with their or their crony friends' business and real estate plans. [The true character of these two rather sociopathic men can be gleaned from subdued profiles of each of them that have appeared in the New Yorker.] Any real journalism that appears in the News or the Post is strictly by chance. The once-great Newsday was sold to L.A. business interests who gutted the paper, then sold it to the Long Island-based Dolan family, owners of Cablevision and MSG, in '08. [The newstand price was hiked 25 percent in Oct 2012.] The Dolans have relentlessly downsized the paper, subjected it to unnecessary redesigns, fired a lot of journalists, and emphasized even more consumerist hype, worthless-celebrity vomit-fluff, encouragement of alcoholism among the young, and a smattering of extremely parochial local Long Island news. As for readers of the Post and the Daily News, most of them may or may not agree with Murdoch's and Zuckerman's corporate-protectionist views, bigotry, chauvinism and thuggish take on events, especially since those papers commonly contradict such readers' own economic and social interests. But these same papers make sure their readers are conditioned to find repugnant the relentless elitism of the NY Times and its focus on the concerns of the region's upper middle class, rich and super-rich white folks. Despite the Times' misty-eyed self-advertising about its journalistic practice, the paper's business owners' prime concern is the national edition, again, the better to enhance various business interests. That's why they treat NYC like a third-world nation, and that's why the Metro section was squashed in Oct '08 (see below). The 'Respectable Right Wing' in NYC: First the Sun, now the Journal
At about the same time that the Times sank the separate NY section, a broadsheet challenger from the extreme rightwing, the New York Sun, went under - perhaps because it was so obviously a front for real estate interests and because it insisted in pushing extreme hard-rightwing views, essentially a mouthpiece for the rightwing Manhattan Institute. The existence of this reactionary paper in a city with perhaps one of the nation's highest percentage of progressive and well-informed citizens was truly a paradox. The Murdoch-owned Wall Street Journal launched a separate New York section in spring 2010, in an open challenge to the Times, which responded with a new round of ads crowing how good their coverage is (but little change in actual coverage). There is some interesting metro-NYC coverage in the Journal, but predictably, the agenda is on real estate and the rich and super-rich, and the perspective mostly belongs to that of politically connected developers. The Journal's opinion pages, reflecting the paper's owner, Rupert Murdoch, are perhaps the most reactionary in the country, and do not belong in a civilized city. Some Alternatives - and Journalist Frauds
There are some on-line sources of news about NYC's pathetic, stalemated transportation situation, such as Streetsblog and the The Indypendent, published 17 times a year [more about on-line sources later]. There are some excellent small-circulation local weeklies, such as the Villager, Chelsea Now and Downtown Express, that do a pretty good job covering the streets and ongoing development scandals, and often print Charlie Komanoff's terrific letters and op-eds. Incisive local coverage in the dailies is spotty at best. The crappy free paper Metro long ago used to run fine articles by Patrick Arden and Amy Zimmer on transit, overdevelopment, parks encroachment/privatization, toxic plastic turf, etc. -- all of concern to those New Yorkers without second or third homes. But they are gone gone gone. Make no mistake about it - these free papers -- Metro and amNewYork -- journalistically are frauds, routinely blenderizing the news, garbling facts, mashing up viewpoints and omitting essentials. They too are fronts for big business, various rip-offs and real estate/tavern interests, just like their bigger competitors. Conclusion - Read Everything!
So, then, is the Times a great journalistic standard bearer, using its powerful front page to embarrass wrongdoers before the world, or just another camouflaged parasite feeding off NYC's human and artistic capital, grassroots energies and youth, giving precious little in return and misleading and misinforming at every chance to benefit its advertisers and the city's richest corporations, fiefdoms and most well-off people? Perhaps both? Nevertheless, the Times stands as the paper of record - and you will find many references to it throughout this website. A fuller review of this paper is beyond the scope of this webpage - please check out some of the many books (including John Hess' My Times: A Memoir of Dissent), magazine articles and Fairness and Accuracy in Reporting critiques about the newspaper that many consider the country's finest and most professional. We recommend reading everything, so that patterns of bias in the media, when juxtaposed against ownership and profit motives, can become more obvious. Also, support alternative media, such as the very organization whose website you are reading from! One thing is certain, as can be seen by all the frantic "mea culpas" and "ombudsmanning" the paper's been printing -- the Times does have a thin skin -- even as it continues the same biases, and makes the same mistakes, month after month, year after year, decade after decade, generation after generation . . . The editors, counting on sheer volume of words dumped on us every day, and being able to re-spin their spin to deflect criticism, have molded it, at least on some issues, into a very fast-moving, shape-changing target. In the meantime, we present a few short critiques, focusing on urban/transport issues (which can be re-read online at the Times website), in most recent first order:
---
June 2, 2013 edition [Sunday Sports]:
George Haikalis' Letter about Preserving Madison Square Garden
Who knew the Sports section had a letters column? Well it does, and today, George argues for preserving Madison Square Garden in place as a cultural landmark, and improving its surroundings.
---
April 22, 2013 edition [Monday]:
Carefully Worded Critique of Bloomberg's East Midtown Overbuilding 'Plan'
Robert Stern, the patrician dean of Yale's architecture school, weighed in today with this well-written critique of billionaire Mayor Bloomberg's end-of-reign plan that would allow his pals to vaporize numerous older midtown office buildings surrounding Grand Central and replace them with massive mega-towers so as to supposedly better compete with Shanghai. Anyone who has had to walk, commute, bike, drive or breathe in this area knows the streets, sidewalks, subways and trains are already terribly overcrowded. Adding tens of thousands more office drones to the neighborhood is insane. As befits his lofty perch, Stern did not of course use the phrase 'burning greed' to describe Bloomberg and his real estate cronies' true motives. Ever eloquent, Stern observed: "The proposed East Midtown upzoning doesn't give anything back to New York. It's all about real estate and not about place-making, or should I say, place-saving."
---
April 21, 2013 edition [Sunday Business]:
AFNY activist Jeff Prant's Letter Published
The Times published (or excerpted) AFNY member Jeff Prant's letter today pointing out that an article about ambitious plans for revitalizing downtown Detroit ("Motor City Missionary", April 14) was accompanied by a new parking garage being built there - just what not to do in any new urban plan. Jeff elegantly wrote: "One of the clear lessons of the last century is that accommodating a city to the needs of the automobile is probably the surest way to devitalize that city. It's no coincidence that of the many American cities which have experienced this form of decline, none surpass the 'Motor City'."
---
November 21, 2012 edition [Wednesday]:
A Fine Jane Holtz Kay Obituary
Jane Holtz Kay, an environmentalist, architecture critic and fierce opponent of overuse of cars, died on Nov 5, 2012 in Boston, age 74. The decision to publish her obituary in today's paper must have been made between the editors' gritted teeth, because her views are so far removed from the paper's longstanding car-advertiser-friendly windshield perspective. Regardless of under what conditions the decision was made, the obituary itself is respectful and thorough. Her key 1997 book "Asphalt Nation" mentioned George Haikalis and Auto-Free NY. George's contemporary review of the book is provided here on our Books Page. We hope to get a remembrance page up on this website soon.
---
October 1, 2012 edition [Monday]:
Smearing and Praising Public Transit At the Same Time
To get an idea of just how deeply ingrained the NY Times' twisted grudges against public transit are, consider the following couple of sentences which opened a brief article this day about the Transit's Museum's annual bus festival in Downtown Brooklyn:
"There are some New Yorkers for whom the word "bus" can conjure unpleasant memories of long delays.
Or perhaps an unpleasant sojourn in the bowels of the Port Authority Bus Terminal. Or maybe in a less
ominous connotation, simply a poor alternative to the subway. Those New Yorkers were in short supply
[at this year's bus festival] . . . "
Then imagine the paper opening a review of a car exhibit, promotion or auction with a vivid description of the real crises caused by overuse of cars in the city.
---
July 19, 2012 edition [Thursday]:
Rare but Eloquent Critique of MTA Ads
Kudos to Matt Flegenheimer for his article "For Transit Agency Needing Cash, This Ride on the No. 7 Line is Sponsored By . . ." (Page A22). In it he reviews the MTA'a plans to sell advertising space on the front of its Metrocards. Ads have appeared from time to time on the back of the cards, but ads on the front would be a new low. Flegenheimer was allowed to quote on C train rider: ". . . the commercialization of humanity is destroying everything in the world . . . it would be nice to have public transportation separate from brainwashing."
---
July 12, 2012 edition [Thursday], Business Section:
Modern LRT (San Diego) Sighted on NY Times pages!
Light rail is usually censored from the "paper of record" but pictures of trolleys do show up from time to time (at least in the print edition - censored from website?). Here's a view of a decorated San Diego trolley, festooned with ads for an animated tv show, making its way past the convention center.
---
June 17, 2012 edition [Sunday], Metro Section:
Sam Roberts Bookshelf column: Neil Fabricant's new critique of Mayor Bloomberg
Credit is due the Times for not censoring this book and for printing a small but hardhitting color illustration from the book. Roberts seems to pin Fabricant's dislike of Bloomberg on his failed attempt to keep Independence Plaza, a housing project in lower Manhattan, affordable (Fabricant lost). A review will hopefully appear here soon.
---
December 16, 2011 edition [Friday]: [updated]
Times Executives' Bloated Pay Mentioned on Back Page
Even as the NY Times' budget is cut, forcing massive staff layoffs, and for content to be dumbed down and streamlined for advertisers, and even as newstand prices were raised a whopping 25 percent in January 2012, the company can still afford immense salaries for its one percenters. The paper boldly printed compensation figures for two executives on this day, but super-quietly, at the very end of an otherwise yawn-inducing article buried in the business section, that described an abruptly retiring executive, Janet Robinson ["Times Chief Is to Retire At Year-End"]:
* JANET L. ROBINSON, chief executive [leaving at end of 2011 after 7 years]:
$3.6 million for 2008
$4.9 million for 2009
$5.3 million for 2010.
* ARTHUR SULZBERGER JR., chairman and publisher:
$4.8 million for 2009
$6 million for 2010.
Such bloated pay packages should give pause to those concerned journalists and critics, most of whom are underpaid or even volunteer, and from across the political spectrum, as they try to get the paper to live up to the reputation for journalism that it is always crowing it has. And citizens too, should reflect on what is happening to the media in these dire economic times, when executives can get such absurdly oversized paychecks and golden parachutes.
---
December 14, 2011 edition [Tuesday]:
Vision42 Letter published: "Crowded Sidewalks"
A letter co-written by vision42 principals Roxanne Warren and George Haikalis appeared in the print edition today, suggesting yoking a light rail line and auto-free 42nd Street to the pedestrianized plazas of Times Square. The online NY Times website enables one to easily retrieve all of the letters George Haikalis and others have written over the years.
---
November 13, 2011 edition [Sunday - Real Estate]:
Christopher Gray column: "The Pedestrian Loses the Way"
We have long been fans of Christopher Gray's Sunday columns looking back on what NYC has lost in architectural and urban treasures. Mr. Gray writes here thoughtfully of how the streets of NYC were once much more the domain of pedestrians. Unfortunately he appears to apportion equal blame to [long-gone] streetcars, bicyclists then and now, and the automobile, while we would maintain that the automobile is by far the chief culprit for theft of space and safety. Gray admits that "by design, passengers were meant to board [NYC] streetcars in the middle of the roadway" - a half-century-long symbiosis between streetcar and walker, that ended in the 1950s, when the city trashed its last trolley line, and the car became king. Bonus point: vintage photo of Columbus Circle, circa 1921, when it had not only streetcars, but actual handsome buildings, not oversize eyesores.
---
November 8, 2011 edition [Tuesday], Page C1:
Times Art Critic Sings Praise of Biking in the City
In a rare sign of increased awareness that urban bicycling actually has some positive aspects, the paper published today in the flagship position in its Arts section an essay by Michael Kimmelman, Times art critic, "Pleasures of Life in the Slow Lane" which places tourist-style bike riding in NYC today in perspective both historically and internationally. However, biking at a leisurely pace in any but protected bike lanes or parks bike paths can be very dangerous, as you will quickly find yourself sideswiped, honked at, tailgated or cut off by speeding motorists making turns.
---
August 11, 2011 edition [Thursday], Page C1:
Times Music Critic Befuddled by Soho Traffic Jam
Analysing the NY Times' car-coddling "coverage" is dismaying enough, but lately it feels like trying to stop the tide from coming in. Take veteran Times music critic Jon Pareles' prominent cover story in today's Arts section, "The Contrapuntal Sounds of Gridlock." Pareles made the long trek from the Times posh headquarters at 40th Street to Soho, the land of millionaire lawyers' lofts, to -- get this! -- review the "musical" sounds of the chronic traffic jams on Broome Street leading to the Holland Tunnel. While we withhold comment on Pareles' abilities as a music critic, it can only be due to his breathing in too much car exhaust, or mental illness on some bored editor's part, or perhaps both, that this preposterous propaganda appeared in the "paper of record." Combined with a collage and other photos amateurly doctored (probably with Hipstamatic or Instagram software) to look like they were taken in the '70s, this article is yet another low in the NY Times' slide into non-journalism.
Taken as an arts piece, Pareles, here taking up a whole page of precious arts coverage space, strikes a tone of bemused upper middle class nose-picking, creating more evidence of the extremely low regard the business-minded editors have for the arts community and audience in NYC.
---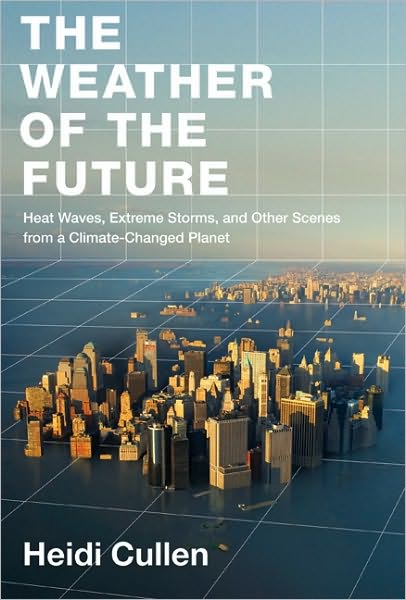 July 20, 2011 edition [Wednesday]:
Op-Ed by Climate Change Scientist Heidi Cullen
Credit is due to the paper for publishing on its Op-Ed page today "Sizzle Factor for a Restless Climate", by Heidi Cullen, a scientist and author of "The Weather of the Future." The cover of this book (reviewed on our book page) shows Manhattan inundated under a deep storm tide predicted by scientists sometime in the near future. The Times reviewed this book but buried it on a back page of the business section; the cover image has apparently been embargoed from the paper's pages or its website, so we reproduce it here to make up for the paper's censorship.
---
July 6, 2011 edition [Wednesday], Page A13:
Polluter-Driven Hatchet Job Against EPA Chief
The vast majority of the American people want a clean environment, and recognize that regulations to achieve that goal are either jobs-neutral or actually create jobs. Most Americans also realize that healthy people and a sustainable economy are also good for jobs, hold down medical costs, and allow for a civilized future for our children. But against this common sense, once again the NY Times weighs in with a hatchet job against EPA chief Lisa P. Jackson ["EPA Chief Stands Firm as Tough Rules Loom", by John M. Broder]. This lopsided account of her travails reads as if edited by a panel of corporate lobbyists, with an extended quote by notorious planet-hater Congressman Ed Whitfield, a Republican from Kentucky. No quotes by any environmental group appear; only a weak quote by a White House spokesman in Jackson's defense, and an extended quote by that former bitter foe of the environment, William K. Reilly, who headed George Bush's EPA at one of the worst times for the natural world in modern history. Broder writes, quoting an unknown adviser (perhaps from a corporate lobbying firm?): "[Jackson] has been left, as one adviser put it, behind enemy lines with only science, the law and a small band of loyal lieutenants to support her." Oops - forgot the American people -- again!
The very next day, Thursday, July 7, the EPA announced its new power plant standards, to take effect in 2012. The day after that, on Friday, July 8, John Broder weighed in again in the Times with another unbalanced report on the announcement, but this time allowed a positive quote by a spokesman from the Adirondack Council, a bona-fide environmental group. Finally, the following Monday, July 11, the Times ran an editorial in the #1 position on their editorial page, unabashedly supporting the new rules, which if implemented, would greatly improve NYC's air quality and public health ("An Aggressive Ruling on Clean Air" - recommended reading!). So why would they publish such unfair and unbalanced 'journalism' like Broder's on July 6 about this issue?
---
July 15, 2011 edition [Friday]:
'City Room' Celebrates Driving Thru Central Park
In today's paper, Corey Kilgannon's ode to driving thru Central Park ("A Hushed, Breezy Drive in the Green Heart of Manhattan") is a perfect example of why reading this newspaper closely is so demoralizing, and possibly hazardous to your mental health. Here's how the paper's ethics- and conviction-free process works: first the writer sticks his thumb in your eye ("driving through the park is so wonderful!"), then he politely apologizes ("ok, I admit cars don't belong there"), then he swiftly kicks you in the groin ("more delights of driving through the park - enjoy it while you can"), then back to apologizing, and so on. As with the August 11, 2011 article above, the paper is simply dumping on us more upper middle-class nose-picking, or, from another vantage point, aspirational consumerism.
---
December 5, 2010 edition [Sunday]:
NO Important Books in Sunday's '100 Notable Books of 2010'
Few people expect to read in the Sunday NY Times' book section enlightened reviews of important books on the urgent environmental crises of our time, and this Sunday's edition is no exception. Of the 52 non-fiction books listed in its annual holiday feature, '100 Notable Books of 2010', only one bothers to examine the crowded and beleaguered planet we live on: "Four Fish: The Future of the Last Wild Food," by Paul Greenberg. This book brings much grim news about our troubled oceans, but the Times editors most likely included this book because it touches on one of their favorite topics of self-interest - gluttony (see weekly Dining section).
Ominously, the fiction section's very first book listed is "American Subversive", by David Goodwillie - perhaps another Michael Crichton-style virulent caricature of environmentalists as eco-terrorists? Meanwhile, the rest of the Book Review has ZERO books on the environment or nature - but 2 full pages on cookbooks, 2 full pages on comic books, 2 full pages on silly books about typefaces, etc.
---
November 26, 2010 edition [Friday]:
Positive Transit Coverage [LA Rail Expansion] on Holiday Weekend
The Thanksgiving weekend is traditionally one of the least read weekends in the year, and so lo and behold, there is an excellent article in today's edition, on the cover no less, reporting on Los Angeles' dramatic expansion plans for its light rail and subway systems ("In Los Angeles, Big Steps Ahead for Mass Transit", by Adam Nagourney). The city will be adding an 8.6-mile extension to its Purple Line subway - the "subway to the sea", and even more radical, an 8.5-mile above-ground light rail line, to be completed around 2020, that will connect to the LA International Airport. These two lines are in addition to an 11-mile extension of the Metro Gold line, on which work has already started, and an extension to the Exposition light rail line, which will reach to Santa Monica, on which construction should start very soon. Combined, LA is adding about 35 new miles to its existing 79-mile network of subways and light rail lines - in effect, almost half again as much as they have now. Imagine NYC adding the equivalent within the space of a few years: about 300 miles to its existing 722 miles! Now you see how sunken in its automobile and bureaucracy stupor NYC really is.
---
November 11, 2010 edition [Thursday]:
Running a Satire of Vice President Biden on the Front Page
In a new low for the 'paper of record', the Times ran a feature story by Jeremy W. Peters about the humor/satire magazine The Onion running a series of articles making a totally false caricature of Joe Biden. With all of the serious crises facing our city, nation, and world, how this article could appear on the front page of what is supposed to be the nation's premier newspaper is utterly beyond us.
---
April 2, 2010 edition [Friday]:
NY Times Finds Beauty in the Cross-Bronx Auto Death March
It's not clear how they manage it, but somehow the auto zombies at the NY Times found people to quote on their front page saying how wonderful the Cross Bronx Expressway is! "I think the trucks up high with the lights all around them, they're very pretty", one woman is quoted. A neighbor of hers "sees the highway as his therapist." Since their homes are at the intersection of the Cross Bronx and the Bronx River parkway, perhaps these residents and the staff writer -- and the Times editors, too -- have been unwittingly inhaling more exhaust fumes than they should?
---
October 14, 2009 edition [Wednesday]:
Vision 42 Reviewed on Back Page of Business Section
Today's "Square Feet" column, which covers commercial real estate in Manhattan, reviewed the Vision 42 light rail proposal ["Without Cars, a Different Sort of 42nd St.", by Alison Gregor], but got the number of supporters off by many orders of magnitudes -- Vision 42 has more than just "dozens of supporters".
---
October 13, 2009 edition [Tuesday]:
Today's Front Page: Motorists Whining, and Yet Another ExxonMobil Ad
This is surely a dark time for serious newspaper journalism in NYC. Just look at today's NY Times: an ExxonMobil ad on the cover, accompanied by front-page headlines by Danny Hakim about the urgent crisis of NY State motorists' registration labels falling off their windows because the glue isn't good enough. And what can only be seen as a slap in the face of those seeking serious national news, a big space-filler on page A15, " 'Boneless Wings', the Cheaper Bite", by William Neuman, reported on the incredibly important topic of the dishonest re-marketing of chicken parts as chicken wings, in fry-pit fast-food joints nationwide. "If they can figure out how to grow chickens with four wings," one owner of an 80-outlet Atlanta-based franchise fry-pit operation is quoted, "we'd be in really great shape."
---
September 20, 2009 edition [Sunday]:
Phoenix Light Rail Praised Thru Tightly Gritted Teeth
Badly car-sprawled Phoenix, without any subway, finally and courageously installed and opened (in Dec '08) a 20-mile light rail line, which has turned out to be a great success in terms of ridership numbers, convenience, new real estate investment and the city's image. Forced to acknowledge this success, Jennifer Steinhauer, writing in today's paper ("In Phoenix, Weekend Users Make Light Rail A Success") started off her piece: "Among the many detractors -- and they were multitudinous -- who thought light rail in this sprawling city would be a . . . failure was Starlee Rhodes . . . " Rhodes is a local crank.
---
March 29, 2009 edition [Sunday]:
Queensboro Bridge Fluff Piece Writes Transit out of History, Stalin-Style
This Sunday filler piece commemorating the 100th anniversary of the opening of the Queensboro Bridge completely leaves out even the briefest mention or image of the once-extensive public transportation over the bridge, nor transit's huge role in the early development of Queens. Written by James Barron, "To Fans, a Steel Swan, Not an Ugly Duckling" features a large and pretty photograph of the bridge in late afternoon, which blots out a huge chunk of the Sunday paper's metropolitan section, rather than say, actual journalism about the bridge or the city's pressing traffic problems.
The article even wrongly claims the Hell Gate [rail] Bridge links Manhattan and the Bronx, and its comments about the "little people" who "make the city run" implies they all commute by car into Manhattan via the bridge. In reality, they're on the subway. It's as if the reporters at the Times were visiting some little-understood, and much looked down upon foreign country, rather than the teeming borough just a short distance from their posh 8th Avenue headquarters. [For a much better understanding of the Hell Gate Bridge, read "The Eighth Bridge", by Tom Buckley, which appeared in the New Yorker on Jan. 14, 1991.]
---
December 22, 2008 edition [Monday]:
Phony Anti-Caroline-Kennedy Letter from Paris Mayor Printed Today!
You would think the NY Times had learnt from its many previous scandals like the Jayson Blair fiasco or Judith Miller's front-page series of White House "leaks" that helped instigate the US invasion of Iraq in 2003, leading to a trillion-dollar war and 100,000 Iraqi dead. But no. The paper printed a phony letter -- that's right, a fake! -- attacking Caroline Kennedy as a possible new NY senator, a letter supposedly written by Paris Mayor Bertrand Delanoe (a real mayor!]! A few phone calls could have confirmed the letter's inauthenticity, but our local "paper of record" couldn't even do that. They were able to apologize the next day though. What's next - a letter from Elvis?
---
November 16, 2008 edition [Sunday]:
Op-Ed Page: Detroit Should Convert into "Transportmakers"
In a view that made common sense decades ago but has been given short shrift for years in the pages of the Times, Robert Goodman, an environmental design professor, quietly notes here that the American auto industry -- ie, Ford, GM, etc. -- should begin making transit vehicles, including light rail cars and high-speed trains. Doing so would actually create real jobs, right here in America.
---
November 12, 2008 edition [Wednesday]:
Times Notices Foreign Companies, Not Ford or GM, Building Streetcars Here
This article, by John Tagliabue, tucked away on a quiet backpage of the Business section, examines foreign tram builders in the light of an expected increase in the US market for new light rail systems, due to the huge recent jump in public transit ridership nationwide, and the forthcoming presumably more pro-transit Obama administration. American law states that 2/3 of a tram car [by value] must come from the US, meaning the vehicles, although foreign-designed, are mostly built here in the US.
The article, sotto voce of course, mentions that federal spending on light rail systems nationwide is down, in 2007 totalling $473 million, as compared to $935 million in 2006. To get an idea how miniscule such annual investment in sustainable infrastructure is in our federal budget, consider the ongoing US occupation of Iraq, which costs American taxpayers some $12 billion a month!
---
October 16, 2008 edition [Thursday]:
Times Buries Alive a Pro-Transit PBS TV Show
Every other year or so, and despite the intense pressure from its automotive advertisers, PBS on television runs a wonderful documentary on public transportation. The Times could do its part to be civic-minded by reviewing and promoting these rare and important shows, but usually doesn't. Sure enough, on this evening, at 8:30pm, PBS ran a half-hour show, NOW, hosted by David Brancaccio, a balanced look about California making substantial improvements in public transportation and in curbing sprawl. It featured an excellent Oakland-based organization called Reconnecting America, and even scored the McCain and Obama presidential campaigns' websites about their transit proposals (McCain: none; Obama: some). What listing did the Times run today for this exact time slot, on their TV page? A crank show called "Speeders Fight Back", on the obscure cable channel, TruTV! Here's their description: "File this one under 'defensive drivers.' In this new series, motorists head to traffic court to confront the police officers who caught them speeding."
---
October 6, 2008 edition [Monday]:
Metro Section Gets Vaporized in Bid for Profits
The Times' editors, sick and tired of NYC's chronic problems, and for that matter, of "everyday New Yorkers" [ie the non-rich], finally abolished the Metro Section and banished it to back pages in the main news section, where it will attract less attention [a separate "New York" section will continue to appear in the Sunday paper, for now]. This move appears to dovetail with Mayor Bloomberg's push to buy off and eliminate democracy as expressed by the term limits law, and also with the bad regional news ensuing as the Times editors' beloved FIRE sector [finance, insurance, real estate] collapses due to the financial meltdown. The editors, as if to stick their thumbs in the eyes of their readers, ran an audaciously titled lead article on the very last day of a separate Metro section [Sunday, Oct 5, '08] entitled "Drab Setting, But Joyous Work: Making 2 Into 1" - yet another puff piece, this time about the Manhattan Marriage Bureau, by Fernanda Santos, probably some underpaid freelancer. As the paper steadily shrinks, sprouts more famous-for-nothing celebrity vomit-fluff and advertorials, and increasingly pushes its readers to go online for content, people are beginning to ask why they should pay $1.50 for this.
---
August 14, 2008 edition [Thursday]:
Streetcars in The Spotlight (Cincinnati) - But Not NYC!
Today's paper ran a modest article by Bob Driehaus reviewing streetcar plans brewing in Cincinnati, with plenty of quotes by the usual nay-sayers and cranks. Cincinnati lost its streetcar system in the '50s, and now with the curtain coming down on subsidized gas prices and suburban sprawl, those cities making substantial investments right now in urban transit will be seen as really smart a few years from now [not NYC!]. The Times unfortunately slates such streetcar articles only once every 3 to 5 years, as opposed to an endless parade of automobile promotions masquerading as journalism. And certainly NYC trolley plans, like Auto-Free NY's 42nd Street plan, must be seen by the towncar-chauffeured editors at the Times as totally heretical.
---
August 10, 2008 edition [Sunday]:
Hurray for SUV's! HURRAY, HURRAY! Hey You - Got a Problem?
Most of the cover of the Travel Section this Sunday was taken up by a huge color photograph of an SUV in an empty, traffic-free landscape with three lunatics jumping up and down and presumably celebrating their 4-WD gas-guzzler, accompanying an article by journo-victim Ethan Todras-Whitehill about driving in Bolivia. Take that, you earth-firsters!
---
June 22, 2008 edition [Sunday]:
Tom Friedman: American Gas-guzzling Is An Addiction
Thomas Friedman's op-ed column today, acting as the paper's muffled minority voice, courageously explains how President Bush is only worsening our dependency on oil when he does stunts like, for instance, traveling to Saudi Arabia and begging the sheiks to increase oil production (they said no!). The column smartly emphasized the association of gas-guzzling with harmful addictions, and their inexorable downward spirals. Unfortunately, Friedman also threw in a gratuitous plug calling for a crash program for more nuclear power, which will continue to be a complete non-starter for both the American people and for the big investors who make the real decisions.
---
June 18, 2008 edition [Wednesday]:
The NY Times Hides Monster Eyesores Planned for Seaport!
Today's article, while providing a fair amount of reportage, shows an illustration that crops out the most offensive part of a planned building complex that would replace the South Street Seaport. Everyone knows the Seaport has been utterly mismanaged for years -- in fact, as the article relates, a lawsuit is now pending in State Supreme Court, trying to force better management by the Seaport's current lease-holders, an out-of-town corporation, Chicago-based General Growth Properties.
The Seaport is still a goodsized downtown public space, allowing non-luxury-condo-owning visitors a bit of a waterfront view, and since the City owns the property, a caring mayor could solve this issue overnight, if he wanted to. Unfortunately, Mayor Bloomberg is siding with General Growth, which is not only trying to sink the Seaport, but plans to privatize its space with taxpayer-subsidized luxury condos and a hotel. The greedhead developers hired a firm called SHop Architects whose egomaniacs came up with the ugliest eyesores imaginable, without the slightest trace of nautical, or even Old New York, influences -- which people love so much. David Dunlap's article ("New Look is Planned for Pier 17 at the South Street Seaport") shows one of their renderings -- but with the tower cut off! We see what looks like a cereal box on its side, perforated, with spikes sticking out at the roofline, plopped on top of what look like cages such as they used to keep tigers in during the bad old days of zoos. The 42-story luxury condo appears made of beer-can pop-tops welded together. Such a monstrous design, as if by nasty kids or zombies from outer space, is not going to help the proposal, which already faces daunting economic, land-use and political hurdles, and hopefully, strong grassroots activist/preservationists.
---
June 8, 2008 edition [Sunday]:
The I-35 Bridge: The Times Insults Minnesotans, Bungles Reporting
This shameful article, by Monica Davey, is typical of how the Times bungles their journalistic responsibilities ("Construction as Spectator Sport: New Bridge Rises in Minnnesota"). Davey presumably wanted to show how local Minnesotans and tourists flock to the sidewalk tours being given about the $234 million replacement Interstate-35 bridge rapidly going up in Minneapolis over the Mississippi River. Fair enough. The original bridge collapsed in August, 2007, killing 13. Unfortunately, the article condescends to the people it reported on. Worse, it spent not one word on the struggle to add transit to the ten-highway-lane bridge, for example for tracks for light rail, or the inclusion of pedestrian and bicycle access [for the record, the bridge has two lanes that can accommodate light rail].
---
May 19, 2008 edition:
The Times Finally Goes After the MTA Over its Elevators/Escalators
Kudos to the Times for their front-page article, written by William Neuman, blasting the MTA for its decades-long mishandling of its elevator/escalator program, which has gobbled more than $1 billion over the past 15 or so years. Not only did this well-researched article ("$1 Billion Later, Subway Elevators Still Fail") appear on the front page, but it continued inside for another page and a half. The conclusion: the MTA's training program for mechanics is wholly inadequate; an MTA spokesman, Joseph Joyce, squeaked out that maybe this fall he would get around to hiring someone to improve training! And where has Mayor Bloomberg been over the past 7 years? Surely, if he can speak out about illegal guns, he could use the bully pulpit to berate the MTA about this. The Times left him off the hook.
Also to be congratulated today is Paul Krugman's Op-Ed column - "Stranded in Suburbia" - analysing what could be happening to the nation's automobile-dependent suburbia as gasoline prices accelerate upwards.
---
November 7, 2007 edition [Wednesday]:
"Business of Green" Section Leaves out Transportation
Here's another funny bias in the Times, yet another indicator of shoddy or fraudulent journalism. Cars, energy, "green business" get their own sections, but public transportation advocacy is always left out or mumbled in the tiniest or sleepiest of asides. Today's special section, subtitled "The Carbon Calculus", is a great example. Here the paper dishes us a hodgepodge of unevenly written articles, covering modest but ineffectual feel-good niches like nanotech R&D for lighting, coastal conservation efforts, etc., that will have little or no effect on the crisis of carbon emissions.
The lead article, by Matt Wald, a very-long-time Times business/energy writer who should know better by now, concludes with details about an SF winery that will cut emissions by switching from "heavy" glass bottles to "lower-carbon" plastic bags of wine in cardboard boxes - ie, they'll all drink to that, ha ha ha!! (Screw you, environmentalists!) There is only one brief mumble about public transportation in an article by Keith Schneider about, of all places, Salt Lake City, where residents voted for funding for a 45-mile light-rail system and an 88-mile commuter-rail network, to be completed by 2015.
---
March 13, 2007 edition (Tuesday):
It's Getting Hard Out Here for a Global Warming Denier!
To paraphrase the song apparently glorifying pimps that was sung at the 2007 Oscar awards ceremony, it's getting hard for paid liars financed by corporations and their front groups to continue denying that global warming is happening! In Jan. '07, pResident Bush, probably under fierce pressure, actually uttered the words "global warming" in his State of the Union address, signaling a sea change [get it?] to the mainstream media in what the American public is allowed to think. The NY Times, sadly, has for years frequently and consistently given global warming deniers -- people like Gregg Easterbrook, Bjorn Limborg and Michael Crichton -- a broad platform to spread their misinformation. The Tuesday Science section in today's paper broadcast what hopefully will be one of the last of these bald-faced propaganda pieces: "From a Rapt Audience, a Call to Cool the Hype," written by longtime staff writer William J. Broad. The piece may have been timed to tamp down public concern heightened by Al Gore's popular, award-winning film "An Inconvenient Truth," released in May 2006. More likely it was deliberately placed in the paper in an attempt to subvert Mr. Gore's appearance before Congress to speak about global warming, only a week later - on March 21, 2007 -- by dishing out phony arguments as ammunition for the lowest of Washington's know-nothing, typically Republican, legislators. Sure enough, the Republicans - Rep. Joe L. Barton (TX), Rep. Ralph M. Hall (TX), Rep. John Dingell (MI) and the bitterly anti-environment Senator James Inhofe (OK) -- did their best at the hearings to try and discredit the winner of the 2000 Presidential election. These politicians on the national stage are acting as traitors to the planet we live on.
---
February 17, 2007 edition:
Columnist Dan Barry Wins Most Pointless Filler Award for Today
The headlines at the top of the National Report page today blared "He Confirmed It, Yes He Did: The Wicked Witch is Dead." This article, which filled a half-page of precious space which could have been used, say, to spotlight the Bush administration's ongoing strangling of Amtrak, instead tells us about the very small adult actor who played the Munchkin Coroner in the Wizard of Oz. At age 91, he is still alive and living in a northern Florida retirement community. We're happy for the gent, of course, but this article should have been in the Arts section, along with all the paper's other musty entertainment fluff.
---
February 16, 2007 edition (Friday):
Stop the Presses: NY Cops Wear Heavy Coats When It's Cold!
This article, written by Cara Buckley, filled most of the top of the Friday Metro section - it's a pale, stale attempt to create sympathy for cops and traffic agents who have to spend their whole shifts outdoors. Yes, they deserve sympathy, but it makes for lousy journalism and more pointless filler. The subtext, of course, is that it's more Times editors' elite voyeurism of and condescension to how the working class "little people" actually live. Bonus points for bad journalism: including a big picture of mega-corporate trash-food purveyor McDonald's' 42nd St. marquee.
---
February 3, 2007 edition (Saturday):
Dramatic Front-page Image of Polar Bears on Melting Ice Floes
Our natural world is falling apart. The dramatic and sobering image of polar bears forlornly standing on fast-melting ice floes made it to the Times' front page, in full color -- oops, it's only a Saturday, the least read day! Polar bears are a big problem for global warming deniers because of their popular appeal, and because they will probably be one of the first big mammals to go down before the onslaught.
---
October 18, 2006 edition:
Metro 'Vomit-Fluff' Crowds Out More Important Headlines
This day's positioning of articles in the Metro section calls into question what kind of journalists we are dealing with. Could the Times editors and writers be ideologues, or could they be harboring all kinds of twisted grudges, or could they just be ignorant, as they maneuver their giant daily megaphone into the faces of New York readers? Perhaps the most likely reason for the recurring disappointments about this paper is that they're hacks - just there to pass the day, pick up their paychecks, and drive home - no caring, no imagination, no conscience. This Wednesday's Metro Section front page featured a 'vomit-fluff' column by Our Towns columnist Peter Applebome, about womens' roller derby in a small upstate town near New Paltz ("From Raquel to Chick Grit, Women Bond in This Derby"). We don't mean to pick on Mr. Applebome, because he has written some fine metro columns in the past and is a solid writer, and may even have been assigned this absurd topic, and insulting headline, against his will. With upstate roller derby and a huge article about a Long Island drunk driving conviction sweeping the day's front page, here's a recap of the essential NYC articles that people really need to know about, that were instead buried on the back pages: (1) the Police Department's incrementalist push to take away our civil liberties, starting with those of the city's freest and most independent-minded citizens, its bicyclists (a 'Metro Briefing' paragraph on Page B7); (2) a rare profile, and photo, of Jerry Speyer, the real estate dealmaker whose company just bought Stuyvesant Town and Peter Cooper Village, and who, as one man, is now in a position to force tens of thousands of middle-income New Yorkers out of their homes to suit his personal profit motives; (3) a new report by State Comptroller Alan Hevesi which explicitly showed the worsening inequities in salaries, over a 2-year period, in the city's securities industry versus everyone else - average wages five times the average salary in other industries, and wage increases three times everyone else's, between '03 and '05 (also a 'Metro Briefing', page 7); and, finally, (4) multi-billionaire Mayor Bloomberg's 2005 charitable giving, which totaled $143.9 million (article by Sewell Chan on page B7). His net worth is reported as being $5.3 billion, so he still has about $5.15 billion to live on -- not counting his annual income, which is surely well into the 9- or 10-figures. To be sure, it's nice to have a generous mayor, but critics contend such largess is being used to purchase civic silence by watchdog groups of all stripes.
---
June 15, 2005 edition:
Vague, Bland Filler Bloats NY Times' pages, Wastes Readers' Time
A perfect example of the stale filler in the NY Times is "Spots Before His Eyes", by Ben Gibberd, appearing in the Sunday City section this day. Gibberd spent two days following around a retired CUNY math professor from Park Slope who drives everywhere in the city, does not park at meters, and thinks it "a parking paradise". He is quoted: "I believe walking is for exercise and enjoyment, not to do things." The apparent implication is that if this smart old guy can drive everywhere, how stupid can it be? The editors jazzed up the bland text with crazy-tilted photos and a minute-by-minute "timeline" graphic, complete with lightning bolt background (to jolt us from this induced stupor?), of his parking escapades. What a waste of paper.
---
April 30, 2005 edition:
While NYPD Arrests Bicyclists, NY Times Promotes Scooter Scofflaws
The manner in which the NY Times juxtaposes serious news coverage with the trivia, promotions and filler that bloat its pages may lead some to suspect the powerful paper's editors are psychotic, or at least want to make their readers mentally ill. Consider the Metro section's first and second pages in the Saturday, April 30, 2005 edition. The day before, hundreds of NYC cops had gone on a rampage, arresting peaceably assembled bicyclists on their monthly downtown Critical Mass ride. It got so bad that even a NY Times reporter had been arrested in the massive sweep. Yet this news article was tucked away on page two of the Metro section ("At Least 18 Arrests Made in Tense Night of a Monthly Cycling Protest", by Kareem Fahim and Jim Dwyer). Meanwhile, on that day's Metro front page was a promotional puff piece for motor scooter usage in NYC ("Get Your Motor Buzzin' . . . ", again, written by Kareem Fahim). With bicyclists being chased, netted Planet of the Apes-style, beaten and arrested for assembling lawfully, or even just being in the vicinity during the sweep, the NY Times chose to headline instead an article which encourages people to break the law by bungee-cording their license plates to their scooters for quick removal, to prevent getting parking tickets (motor vehicles are not allowed to park on sidewalks anywhere in the city)!
---
January 29, 2005 edition:
NY Times Promotes Monster Trucks (the CXT)
The International CXT ("commercial extreme truck") is a marketing joke designed to out-Hummer the Hummer (such one-up-manship is a classic right-wing ploy, now that American soldiers are getting maimed or are dying in the ongoing occupation of oil-rich Iraq). The CXT is a tricked-out heavy truck cab, based on the same commercial kind that hauls interstate trailers, cement, toxic waste or garbage, manufactured by the Illinois-based truck manufacturer. It weighs 7 tons unloaded, gets around 7 miles per gallon, and the driver rides at the height of an 18-wheeler. So -- what's this transportation obscenity doing on this day's Arts page ( "New Way for Stars to Keep Truckin' ", by Danny Hakim)? Well, for one, the article served as advance promotion for the annual Chicago Auto Show, where the truck was to be on display. For the 'arts' angle, Hakim named a few American celebrities who own a CXT, like actor Ashton Kutcher and the Toronto Raptors' Jalen Rose, implying that other Hollywood types (and various rich people whose extreme wealth has cost them their souls and hearts) are considering splurging on one of these vehicles. So the NY Times is positioning itself as encouraging this social disease!Still, the 'paper of record' guiltily concluded by pooh-poohing the trucks -- Hakim was allowed to squeak out some contrarian quotes from the Sierra Club's Daniel Becker, and to mention that more conscious celebs like Leonard DiCaprio, Cameron Diaz and Larry David drive around in fuel-efficient Toyota Priuses (mass-transit thoughts, as usual, strictly forbidden).
---
Dec. 18, 2004 edition:
NY Times Headlines Dog Feces as Major NY Metro News
If you own a powerful newspaper in NYC, but what you really think you deserve is to rule and control the world, you would treat local concerns of "the little people" with utter contempt. That may be just the case at the NY Times, judging by an article which made headlines on the front cover of the Metropolitan section of the paper's Dec. 18, 2004 edition. The article, "Picking Up After a Dog, And Learning What Ails It", by some unfortunate staffer named Marc Santora, was about -- yes, that's right -- dog feces, and how dog owners judge their pets' health by such droppings. To further insult Metro section readers, the Times included a big photo of a dog's rear end!
---
Nov. 25, 2004 edition [Thanksgiving weekend]:
NY Times Columnist Courageously Slams Hummer Hypocrites
The NY Times' schizophrenic approach to the intensively marketed gas-guzzling Hummers runs the gamut, from pooh-poohing them to trumpeting them (see "My Life, My Hummer" - Sept. 26, 2003; "G.M. Hopes to Bring Home the Bling-Bling" by Tim Moran, Oct. 10, 2004]. Surprisingly, the paper of record printed (although quietly buried on a holiday weekday) a courageous and sharp criticism of these vehicles written by columnist Thomas L. Friedman, appearing on Thanksgiving Day, 2004 ("In My Next Life"). Friedman, using an ironic tone, lists some of the obscenities Americans faced during 2004, and singled out hummers, even as a bloody invasion to secure oil and to avenge the 9/11 attacks (on the wrong people) drags on. We excerpt it here for those that missed it:
"If I can't be The Man [ie, a Nationally Known Sports Bully], then I at least want to be the owner of a Hummer -- with American flag decals all over the back bumper, because Hummer owners are, on average, a little more patriotic than you and me.
"Yes, I want to drive the mother of all gas-guzzlers . . . Yes, I want to drive my Hummer and never have to think that by consuming so much oil, I am making transfer payments to the worst Arab regimes that transfer money to Islamic charities that transfer money to madrassas that teach children intolerance, antipluralism and how to hate the infidels.
"And when one day one of those madrassa graduates goes off and joins the jihad in Falluja and kills my neighbor's son, who is in the U.S. Army Rangers, I want to drive to his funeral in my Hummer. Yes, I want to curse his killers in front of his mother and wail aloud, 'If there was only something I could do . . .' And then I want to drive home in my Hummer, stopping at two gas stations along the way."
Bravo, Mr. Friedman, for musing in your column so progressively about your next life. We can just imagine, perhaps in this life, the following as a real conversation stopper at the next NY Times staff meeting: "well, maybe it's time we stop accepting full page ads for Hummers and doing puff piece after puff piece on SUV's!"
---
September 27, 1997 edition:
Earliest-Known Mention in the NY Times of IRUM
As far as we know, the first-ever appearance of the Institute for Rational Urban Mobility was on Sept 27, 1997, when the paper published a letter by its founder and chairman, George Haikalis.
---
News analysis provided by Auto-Free NY web manager, Wayne Fields [wfields771@earthlink.net]. As the paper of record, all of the above-mentioned articles are available on-line or [possibly] on microfilm at your local library.
---
© Copyright 2012, 2013. All rights reserved. Auto-Free New York.