Fewer Cars - A More Livable City:
A Four-Year Transportation Plan for New York City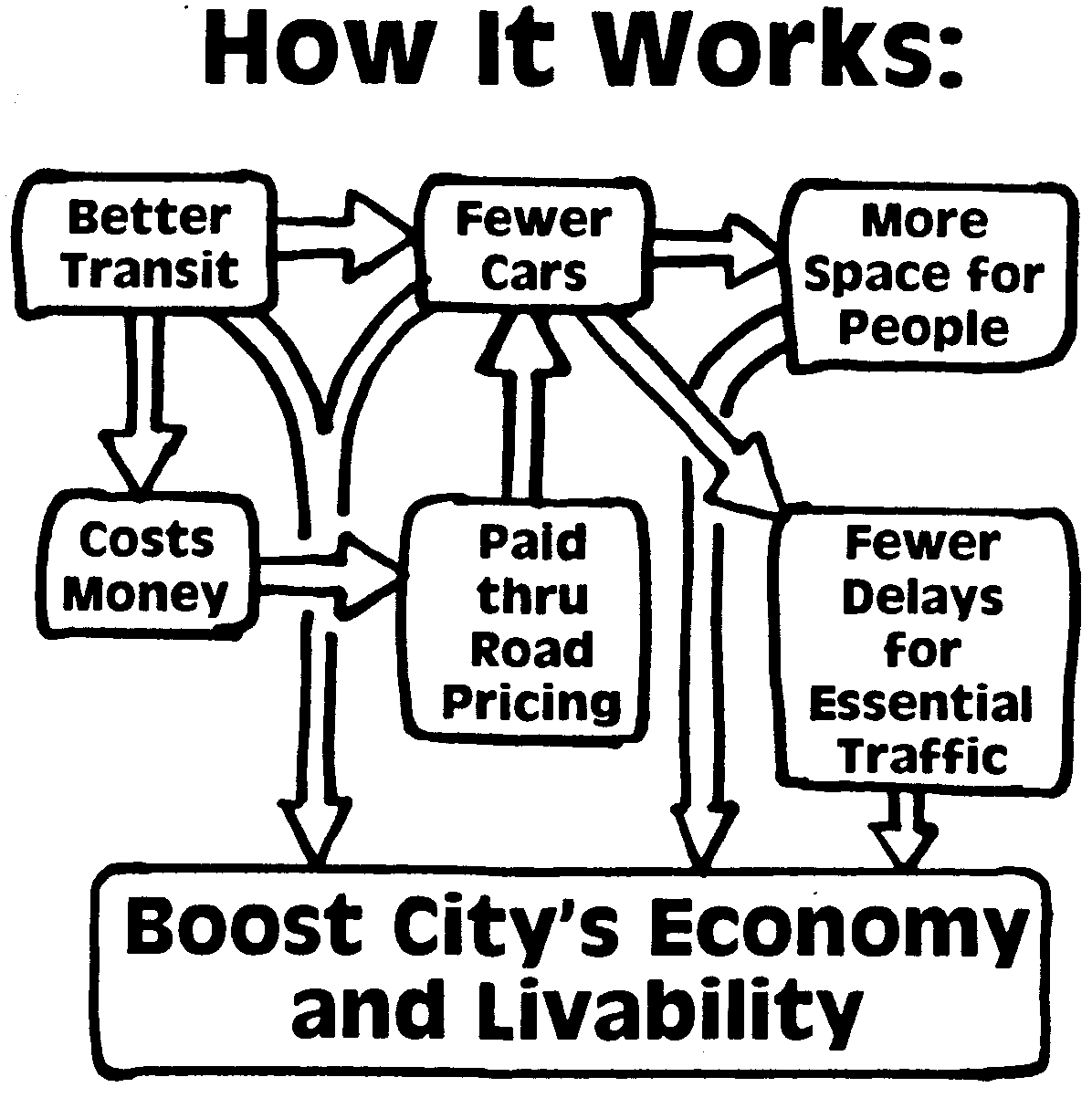 In just four years, or within the timespan of one mayor's term of office, New York City could be transformed into a vastly more livable place, by making changes in the way its existing streets and subways are used. Waiting for new subways to be built, as important as that may be, will not solve the City's transportation problems any time soon. The systematic approach laid out here is the best, quickest and most economical way to deal with these problems. But only comprehensive action will work if City Hall is ever truly going to improve New Yorkers' "quality of life." Getting serious about traffic is long overdue. New Yorkers are increasingly aware of the degraded quality of urban life brought on by too many cars. Indeed, NYC has long had the East Coast's worst air quality. In such a crowded setting, the mobility that the private car provides for the few is lost for the many. Worse, this mobility is a poor trade-off for the costs cars impose on all of us: cars kill and injure people, pollute our air, gobble dwindling natural resources, divert public monies that could be used to improve transit, instill a foreground of constant danger, noise and stress, and consume precious urban space that could have been parks, plazas, housing or stores. Our four-year plan proposes a package of fifteen inter-related, interconnected strategies for not only reducing car use but creating a more livable city while bolstering the city's economic health. The chart shows how these 'carrot and stick' strategies support each other. Above all, this plan is cost-conscious, taking advantage of existing off-the-shelf technology and investments either in place or underway. We believe the concept of reducing auto travel in New York City has widespread support, and we also believe that New York City has the talent, knowledge and resources to make this plan happen. The key will be civic leadership from our elected officials in tandem with concerned citizens and organizations. Although a few individuals would be slightly inconvenienced by this plan, the overwhelming majority of New Yorkers would benefit greatly: enjoying more attractive transit options, cleaner air, a little peace and quiet in their homes, safer streets and amenities like more shade trees, benches and open space . . . The Livable City Plan first made it into print in May 1990 in the Auto-Free Press, just in time for 'Earth Day' 1990, when it was presented to the Mayor and to key public officials. Today, we invite all interested parties to sign on to this plan. If you have suggestions or comments, please get in touch with us. But most important, if you are unhappy that the city you live in is so overrun by automobiles, tell your elected officials. Write to the Mayor, your Borough President, your City Council representative and to your community board. George Haikalis, President
Institute for Rational Urban Mobility, 2002


---
---
The Livable City Transport Plan -- Table of Contents

A. Improve transit throughout the city

1. Reduce transit fares.
2. Increase service systemwide.
3. Develop a Penn Station Metro-Hub.
4. Create a "station in every backyard."
5. Get transit riders home safely.
B. Cut car use in Manhattan by 20 percent, citywide by 5 percent

1. Use "Non-stop" tolls to reduce congestion.
2. Raise price and reduce amount of parking in Manhattan.
3. Put in place a citywide parking "lid."
4. Restrain traffic "upstream" away from city center.
5. Raise tax on taxis.
C. Remake streets for people

1. Establish a "Green Grid" in Manhattan.
2. Promote pedestrian-friendly business districts in the boroughs.
3. Designate a citywide Greenway Network.
4. Encourage creation of Green neighborhoods.
5. Introduce Green vehicles.

Goals:
• Improve the city's livability
• Bolster economy of the city's congested business districts
• Enhance mobility for the widest range of citizens
• Reduce pollution and conserve resources
• Decrease deaths, injuries and permanent disabilities caused by motor vehicles

Rationale for Key Strategies:
• A significantly more attractive transit system encourages motorists to divert to transit, but major service improvements and fare innovations cost money.
• Pricing strategies aimed at reducing auto use can produce the substantial revenues needed to improve public transit.
• Reduced traffic allows a major shift in street space for use by pedestrians and cyclists and for urban amenities.
• This improved environment encourages more travel by public transit and by non-motorized modes.
• Essential commercial traffic moves more efficiently, strengthening the city's economy.
• Dedicating revenues generated by auto pricing disincentives to transit fare reduction and service improvement benefits all New Yorkers, but especially those with limited incomes who cannot afford to own autos in any event.


---
A. Improve Transit:
A-1. Reduce transit fares.

Extend the MTA's new unlimited-ride MetroCard passes to permit travel on MetroNorth, the LIRR and ferry services throughout the city. Establish an integrated regional fare structure for the entire metropolitan area consisting of a single zone for NYC and a series of concentric suburban rings. Reduce the price of these passes to be competitive with automobile travel. Use easily obtainable one-day passes, together with more user-friendly information systems, to draw tourists, business travelers and discretionary travelers to the transit system.
A-2. Increase service systemwide.

Operate faster and more frequent rail, bus and ferry service, with midday off-peak headways of three minutes on subway trunk lines and 10-20 minutes on major commuter rail lines. Double evening and weekend train service by halving train length and crew size. Upgrade signal systems and run more peak hour subway and commuter rail service. Expand and enforce full-time bus-only lanes throughout the city. Improve acceleration of commuter rail cars to reduce running times from the outer parts of the city and the suburbs.
A-3. Develop a Penn Station Metro-Hub.

Initiate new commuter rail service from Metro-North Hudson and New Haven lines, and from western and northern New Jersey directly into Penn Station. Through route trains at Penn Station to make the best use of existing tracks. Purchase new cars and locomotives. Expand access to platforms and make better connections to subways and buses. Build and then extend the 42nd St. crosstown trolley to Penn Station. Begin new rail services to Kennedy and Newark Airports.
A-4. Create a "station in every backyard."

Upgrade feeder bus service for those residents not within walking distance of rail stations, using integrated fares and timed connections. At outlying stations, create and promote pedestrian access, bicycle lanes and secure bicycle parking. Raise fees at overcrowded park-and-ride lots. Improve station accessibility through more escalators, elevators, ramps and curb cuts. Add new rail links to serve new markets, starting with a Brooklyn-to-Queens-to-Bronx rail link using the little-used Bay Ridge freight line and the unused rail beds on the Hell Gate Bridge. Add service on the old Montauk Branch line and the Rockaway cut-off in Queens.
A-5. Get transit riders home safely.

Assure full security on trains, throughout stations and on sidewalks. Assign a security officer to each station and train late at night. Encourage small-scale commercial and residential development that will promote security at stations. Make available late-night taxi or escort service from station to home where needed. Increase community policing and neighborhood patrols to make walking home safe.
---
B. Cut Car Use:
B-1. Use "Non-stop" tolls to reduce congestion.

Replace all existing toll booths in the New York area with an automated, highway speed tolling system now in widespread use elsewhere in the U.S. and Canada. Augment the successful E-ZPass toll technology with video scanning of license plates, and monthly billing of non-equipped vehicles. Extend this non-stop tolling system to other river crossings and to congested roadways at strategic locations in the city. Use the market to price road use, and to eliminate congestion on routes leading to the Manhattan Central Business District and other congested areas that have good transit service. In time, set toll prices to reflect the full social and environmental costs that unlimited car use exacts. Make provision for tax credit for low income and disabled motorists making essential trips. Set prices for commercial vehicles to encourage economic growth. Work together with other states to phase in small annual increases in the federal gasoline tax as a form of non-stop toll.
B-2. Raise price and reduce amount of parking in Manhattan.

Eliminate free "privileged" on-street parking for government workers, diplomats, etc. In crowded areas, permit on-street parking only for trucks actually making pickup and delivery of goods. Sell public agency-owned lots and garages in Manhattan for conversion to more productive uses. Substantially increase the existing Manhattan parking tax and convert it to a per space tax so that it applies uniformly to all off-street parking spaces. Eliminate the Manhattan resident exemption to the tax.
B-3. Put in place a citywide parking "lid."

Since roadway capacity cannot be increased, enact city-wide moratorium on construction of new parking garages. Enforce existing parking regulations that prohibit double parking, parking on sidewalks and lawns and in bus and bike lanes. Encourage new walking-oriented development near transit stations, and restrict large scale auto-dependent development in remote areas by prohibiting construction of new parking spaces.
B-4. Restrain traffic "upstream" away from city center.

Catch traffic before it reaches most crowded locations. Examples: close loop roadways in Central and Prospect Parks. Convert one of the three Lincoln Tunnel tubes, and one tube of the Brooklyn Battery Tunnel, to rail transit use. Widen substandard lanes on Williamsburg Bridge by reducing number of lanes. Replace vehicular lanes on the upper deck of the Queensboro Bridge with a promenade for pedestrians and cyclists and convert outer roadways on the lower deck to light rail transit.
B-5. Raise tax on taxis.

Change medallion taxi rates from primarily a mileage basis to primarily a time basis, to encourage more efficient use of taxis, reduce speeding and improve working conditions for drivers. Levy substantial tax on medallion taxis to reflect market value of urban street space pre-empted by taxis. Use revenues to support better transit service, to make taxis available to disabled persons, and for more secure late night travel home from outlying transit stations.
---
C. Remake Streets for People:
C-1. Establish a "Green Grid" in Manhattan.

Based on pedestrian volume, select an initial thirty mile network of streets in Manhattan (about five percent of the borough's mileage) to be closed to motor vehicles. Include key streets like Broadway and 42nd Street, and a grid in Lower Manhattan. Outfit these streets on an interim basis with sophisticated urban amenities seating, trees and fountains, outdoor cafes and authorized vendors. Operate low-floor, easy access streetcars on selected streets. Establish a dedicated security force to keep these areas safe. Conduct major urban design competition to produce innovative long-term plans for these auto-free streets.
C-2. Promote pedestrian-friendly business districts in the boroughs.

Close major business street segments to traffic, in selected neighborhood commercial strips near transit stations in each borough. Develop these traffic-free segments into attractive pedestrian streets with seating, information kiosks, toilets, improved security and bicycle parking. Expand local feeder bus service to better serve these districts, and to focus on rail stations. Encourage businesses to offer home delivery to reduce auto traffic. Require new commercial developments at these locations, and elsewhere in the city, to avoid pedestrian-unfriendly design features like building setbacks and parking in front.
C-3. Designate a citywide Greenway Network.

Designate a 200 mile citywide interconnected network of greenways and green streets for walking and cycling only. Tie together existing esplanades along the city's waterfront, as well as existing greenways either in place or restored after years of neglect, with new green street links, filling in missing gaps. Incorporate links along rail transit corridors where possible. Outfit all major river crossings with full-time pedestrian and bicycle lanes.
C-4. Encourage creation of Green neighborhoods.

Permit communities throughout the city to generate pilot projects closing their neighborhood streets to thru traffic. Encourage designs that provide only minimum space for low-speed vehicles and allocate the remaining street space for urban amenities such as safe play areas for children, community gardens, and more plants and trees.
C-5. Introduce Green vehicles.

Encourage research, development and testing of human and solar-powered vehicles. Use existing city regulatory authority to require development of "considerate cabs" low performance, easy access, wheel-chair usable vehicles with enhanced operator security. Foster upgraded hand cart and freight cycle technology, including goods movement carts suitable for use off-hours in the subways. Develop special human-powered vehicles for use by parking enforcement agents and pedestrian area security officers. Begin a major effort to devise a total successor to the freewheeling motor vehicle in dense urban areas.
---
Return to the
Auto-Free NY
home page.
© Copyright 2018, 2017. All rights reserved. Auto-Free New York. Last page update: August, 2018. Ilustration and layout: Wayne Fields