2011 Letters
2006-2010 Letters
2004 Letters
2003 Letters
2002 Letters Last update:
Feb. 24, 2006.
2005
Monthly Letters from George
Since January, 2002, our redesigned and rejuvenated Auto-Free NY website has presented a monthly letter from its chairman and founder, George Haikalis. Because many of the topics of these past letters continue to be important, even critically important, we archive them here, most recent first, for your information and reading pleasure.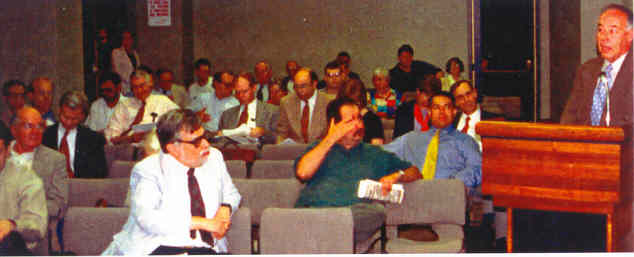 Above, George (in white sport coat) attends an MTA Lower Manhattan Access public hearing a few years ago.
---
December 2005:
Too Many Cars IS the Problem: Updating AFNY's 4-Year Plan
As "the powers that be" rush to shoehorn as many luxury condos for the rich and more unneeded office towers into the city as they can before the real estate "gold rush" tanks, nothing -- repeat, nothing -- substantive is being done to seriously address the issue of our overburdened and unsafe streets, sidewalks and subways, particularly in the city's crowded core. Indeed, whenever pressed, City Hall does their little song and dance routine to try to tamp down public concern - a baby step here, a baby step there. Although the city's lapdog media leaps up and cheers the act, New Yorkers will never accept such thin and phony window dressing from such politicians, bureaucrats and other assorted paid liars.
Although it is obvious that there are just too many vehicles - particularly private cars - to fit our city, the solution is not so obvious. In fact, only a comprehensive solution - not any single step - will work. But first City Hall must end the denial, the hiding, the lies and the obfuscation, and grow a spine. City policy must set a goal of fewer cars. Auto-Free New York's Livable City Plan -- the group's signature achievement -- has for years consistently proposed a goal of 20 percent fewer autos in Manhattan and a 5 percent reduction citywide, to be reached in the span of just one four-year mayoral term.
And it's comprehensive! The plan calls for putting into place a practical and integrated set of closely related strategies that entice motorists to switch to public transit, while making it more costly if they don't. It gives congestion pricing a context -- not just to speed up car flow, but to also make life more acceptable to all who live, work, visit or do business in the core.
Now with our term-limited Mayor about to begin his final four years, there is a real opportunity for bravery. Mayor Bloomberg -- and most of all, his appointee, City Dept. of Transportation chief, Iris Weinshall, wife of Senator Chuck Schumer -- could advocate the unthinkable -- and call for fewer cars!
The most recent version of our Livable City Plan will soon be four years old. It could use a little sprucing up. Why not join us at our next Auto-Free NY Meeting as we reconsider and burnish the plan. Your input is very important. Please read the plan posted here on our website and recommend what should be kept and what should be changed.

---
November 2005:
Light Rail in a Red State: Insights from Dallas and Houston:
Light Rail Advances in Texas - Why Not NYC?
Guest Speaker: Jonathan Boyer, Project Manager, STV Inc.
New light rail transit systems are now operating in Dallas and Houston, Texas -- big, spread-out cities known for their auto-dependence and surrounded by sprawling suburbs, and in a state with a strong conservative political landscape. How did this evolve and what can we learn to bring light rail back to NYC?
Don't miss the next Auto-Free NY meeting where transit expert Jonathan Boyer, Project Manager with one of the nations leading transportation engineering firms -- LTK -- will describe the circumstances, politics and personalities that made this happen. Jon, who is an unabashed advocate for better public transportation, will also provide some interesting perspectives on what it will take to bring light rail to NYC.

---
October 2005:
The Road to City Hall: Packed with Automobiles?
Guest Speaker: Jeff Gold, Vice President, IRUM
The key to improving the livability of our city is to reduce car traffic, particularly in the densest parts of New York. Yet the bureaucrats that run the departments of Transportation and City Planning -- ie, the permanent government of this city, regardless of who is Mayor -- continue to focus on strategies that increase car use in our crowded city. Which candidate for Mayor in the upcoming election this November is more likely to corral this inbred car culture?
Find out where the candidates really stand on such issues as creating auto-free streets, moving forward with congestion pricing and increasing, not cutting, transit service. Our guest speaker this month will be Jeff Gold, Vice-President of IRUM. He is a community activist who has been dealing with elected officials for years. Come to the next Auto-Free New York meeting and find out his take on where the candidates stand.

---
September 2005:
The End of Cheap Oil -- How Will NYC Cope?
Guest Speaker: Aaron Naperstak, Journalist and Author
Fill 'er up while you can! Though NYC prides itself on having the lowest per capita consumption of gasoline in the US, this is hardly because New Yorkers are making sensible transport or development choices. Quite the opposite! City officials unfairly allocate street space and traffic signal timing to favor motorists, not pedestrians and public transit. In fact, some city planners are working behind the scenes, out of view behind their public relations screens, to find ways to encourage developers to provide even more parking spaces in new office buildings and apartment houses in dense neighborhoods, even with the city's chronic and costly gridlock.
But take heart, because such an unsustainable environment will eventually change, regardless of the posturings of politicians, paid liars and apologists for the auto industry. Rising oil prices, even before Hurricanes Katrina and Rita, have given many New Yorkers second thoughts about their dangerous love affair with the car in the city. Perhaps, if prices go high enough, and the general public begins to understand the enormous crisis we are in, even candidates for public office may want to champion congestion pricing, significant transit expansion and lower transit fares.
Plan to attend the next AFNY meeting and find out how New Yorkers can make the most of this.
[Aaron Naparstek is a journalist, author and community advocate. He writes feature stories and a weekly column on politics, development and urban environmental issues for the New York Press. He is the author of Honku: The Zen Antidote for Road Rage, a humorous book of haiku poetry inspired by NYC traffic congestion. He served as a project coordinator for Transportation Alternatives, organizing and working on a number of campaigns including Car-Free Prospect Park and the Downtown Brooklyn Traffic Calming Project. He is co-founder of the Park Slope Neighbors community group. Naparstek graduated with a BA in history from Washington University and an MS from Columbia University Grad School of Journalism. He lives in Park Slope, Brooklyn with his wife Joanne and son Arlo. Find him at www.naparstek.com or www.honku.org.

---
August 2005:
AFNY SUMMER WALKING TOUR #2: West 42nd Street, Light Rail and the Hudson Yards
Scratch One Stadium -- But What About All the Cars?
Our popular summer walking tours take place rain or shine. Last year's tour, however, of Manhattan's West 42nd Street, took place entirely under the canopy of the Conde Nast Building, thanks to torrential rains! So we made it "virtual": participants received a verbal summary and maps, which they could use later on for a self-guided tour. By popular demand we will try again this year.
In the meantime, a lot of cold rain has fallen on the Mayor's plan for a new stadium on Manhattan's West Side. Just what will be built there remains unknown, but one thing is certain -- city plans call for many more cars! The rezoning plan, which was approved by the City Council, calls for massive office and luxury residential overdevelopment, and mandates more parking space to support it.
This need not be the case. Find out how a 42nd Street crosstown light rail line in an auto-free boulevard can provide an alternative to more parking garages, more cars, smog and crashes. Also, see how the LIRR's West Side Yard and the Amtrak West Side line can be adapted quickly and economically to serve local as well as regional transit needs. Why not join us for our summer walking tour -- a walk on 42nd Street's west side -- and see for yourselves what could be accomplished if the Mayor and the Governor would move away from their car-crazed planning initiatives. Now, about that thunderstorm that looks like it's coming this way . . .

---
JULY 2005:
AFNY SUMMER WALKING TOUR #1: More Car Chaos for Wmsburg and Greenpoint?
Oops! In their eagerness to rush through plans for new upscale residential development for Brooklyn's faded industrial waterfront along Willamsburg and Greenpoint, did our city's leaders once again forget about better public transport and more livable streets? Join us on a walking tour of what is, and what could be, in this changing part of the city. Transit and pedestrian advocates from the neighborhood will participate.

---
JUNE 2005:
New York Regional Rail: Linking Suburbs and City
Our region's commuter rail lines -- the LIRR, Metro-North, and NJ Transit -- are truly the "sleeping giants" of regional mobility. Although they function well in hauling at peak hours masses of suburban-dwelling workers to and from their cubicles in the office core of Manhattan, they are far less useful for many other travel needs. At our June Auto-Free NY meeting, we will describe how these priceless rail assets, currently disjointed and underperforming, can be made much more useful for non-Manhattan travel.
For more information on Regional Rail, please visit our recently established sister website www.rrwg.org. (We apologize for the outage of our volunteer-managed AFNY website between late May and June 16 due to unavoidable technical difficulties.)
[For our June meeting, please take extra note of the change of location: it will be held at the Municipal Art Society, which has graciously invited us to their beautiful Urban Center, located at 457 Madison Ave., at 51st St., in Midtown.]

---
MAY 2005:
Garden State or Pavement State:
Mobility without more Highways in NJ
Guest Speaker: Alain Kornhauser, Professor, Princeton University
Credible solutions to ease congestion on suburban highways remain to be found. And in New Jersey, perhaps the most suburban all of the states in the nation, the state is taking the baby step of creating a small number of new higher density developments around existing transit hubs. As important as that may be, it will do little to change the sprawling, car-dependent development already in place. Beefing up NJ Transit rail and bus service can improve alternatives for core-oriented travel, but the dispersed nature of most auto travel in NJ will continue to dictate endless traffic jams, and their resulting pollution, road rage, crashes, more sprawl and denial. Paving over much of what remains of the Garden State, to expand highway capacity, is not an answer, although many still push for it. Personal Rapid Transit (PRT) -- a novel mode of transport consisting of automated vehicles operating on a network of elevated guideway -- is beginning to draw some interest. PRT may be able to provide the mobility needed to reduce car use in NJ. Our May 2005 guest, Professor Alain Kornhauser, who is director of Transportation Programs at Princeton University, will consider how this high tech solution might meet NJ's suburban mobility needs. . .

---
APRIL 2005:
"Why Does This Look This Way?? -- What Automobiles Have Done to NYC
Guest Speaker: John Tauranac, renowned mapmaker and writer
NYC is among the most walkable cities in the US. Yet even though a whopping 85 percent of Manhattan commuters use public transit, and more than half of the city's households do not own cars, what you see as you walk the sidewalks of New York is a virtual tsunami of motor vehicles. And like an angry ocean, this torrent of cars and trucks has taken its toll on the city's built environment -- its magnificent architectural heritage.
One of the great modern chroniclers of NYC's history is John Tauranac. At the next Auto-Free New York meeting, to which you are all cordially invited, John will give an illustrated lecture on the unpleasant changes brought on by the city's Faustian embrace of motor vehicles.

---
MARCH 2005:
"To ignore history is to repeat it . . ."
Guest Speaker: Peter Derrick, Assistant Director, Bronx Historical Society
With a regressive new tax in the form of a fare hike fresh in New Yorkers' minds, the MTA's finances have come under increased, and much needed, scrutiny in recent weeks. When the MTA's first five-year capital program was begun back in 1982, New York's subways, railroads and buses were falling apart from underinvestment. A massive program of repair and renewal has brought these systems back from the brink. A better functioning public transit system has kept the region from sliding into an abyss of automobile anarchy, gridlock and pollution.
Now, some 23 years later, our elected leaders have yet to fund a continuation of this much needed program. Find how this program came into being and where it is headed. Peter Derrick, a well-respected historian, and author of a notable book - Tunneling To the Future - on the first expansion of the city's subway system after its initial route, will be our guest speaker at the next Auto-Free New York meeting.

---
FEBRUARY 2005:
Freedom from . . . Car Dependency!
Guest Speaker: Prof. Herman Knoflacher, Technical University, Vienna
We've heard a lot about "freedom" these days, starting with our President's recent State of the Union Address. But one of the freedoms denied many of us in America is freedom from car dependency. Government policies force most Americans to purchase and use cars. Even in NYC, where more than half of the households do not own cars, public open space -- our streets -- is dominated by car and truck traffic. Our elected officials, and the bureaucrats in the transportation planning profession who do their bidding, mistakenly define success as ever more cars, moving ever faster. The result is the loss of public space, the further destruction of our city and the exploding sprawl of our suburbs.
We can and must do better! Our guest speaker this month hails from Vienna, Austria, surely one of the most walkable and livable cities in Europe. Find out how they do it there . . .

---
JANUARY 2005:
Don't miss the bus!
Guest Speaker: Norman Silverman, Senior Dir., Bus & Rail Planning, NYC Transit
The recent celebrations marking the hundred-year centennial of NYC's subway system helped remind New Yorkers of the best of our colorful shared transit heritage, and to think positively about this remarkable public amenity, even as the city's permanent government was moving to institute a steep new fare hike as another regressive tax on the captive audience of city dwellers. At the same time, let's not forget another important segment of the city's vast transport network -- its local bus system. Over two million passengers per day ride this sprawling surface transit system, easily the nation's largest.
A number of changes are afoot that could make NYC's bus system a critical player in the effort to reduce car-dependence in our congested city . . . find out what's likely to happen at our January meeting . . .

---
---
Summary Index:
DEC 2002: ONE LESS ROAD -- A MORE LIVABLE CITY
A look at getting rid of the hated Sheridan Expressway in the Bronx.
NOV 2002: THE FARE HIKE - ELECTION FOOTBALL?
The fare hike - can it really be all about a few politicians' personal ambitions rather than the needs and concerns of millions of transit users?
OCT 2002: LOST: THE WORLD'S LARGEST STREETCAR NETWORK!
How New York lost its huge streetcar network, thanks to Mayor LaGuardia, General Motors and others.
SEPT 2002: SLEEPING WITH AUTOS
As the old adage goes -- "as you make your bed, so shall you sleep in it." More than half the residents of NYC don't own cars. A whopping 85 percent of the workers in the city's core come by public transit. Yet cars are on the rampage on our streets! Our September guest speaker, Alex Marshall, explains to us how citizens can make a difference.
AUG 2002: SECURE STREETS = AUTO-FREE STREETS
Walking tour of lower Manhattan.
JULY 2002: A TALE OF TWO CITIES
We can learn a lot from other, more sophisticated cities around the world, like Berlin.
JUNE 2002: AMTRAK
In the summer of 2002 the Bush Administration's new budget proposed so little for Amtrak for the coming year that senior management suggested posting notices calling for complete disappearance of most train service in the U.S. Here's a closer look.
MAY 2002: BUSES IN THE CITY
Bus Rapid Transit -- is it an innovative concept or an oxymoron?
APRIL 2002: AUTO-FREE SPACES
MARCH 2002
FEB 2002
The new Mayor, Metrocard Mike Bloomberg continues to use the subway almost everyday and apparently has now taken more subway rides in one month than his last three predecessors combined did in 24 years!
Also: Remembering Steve Dobrow, and Port Authority Should Move Faster on Downtown PATH Restoration
JAN 2002: OUR NEW 'METROCARD MAYOR'

---
© Copyright 2006, 2005. All rights reserved. Auto-Free New York.